The summer holiday to me lasts about half a year, but really in reality it is only about 3 months. I Hoover the carpet, I clean my wardrobe, I clean the kitchen, I dust, scrub and clea
n every inch of my apartment. Once I have played the 1950's happy housewife, I sit on the couch with a nice hot cup of chocolate topped with marshmallows and watch sex and the city over again. There are still 2 more weeks to fill, then I go on my very anticipated holiday to L.A the land of Celebrity and beaches and the Vancouver islands to meet my b/f aunt and uncle that I have never met before! Do you know anywhere nice to visit in L.A?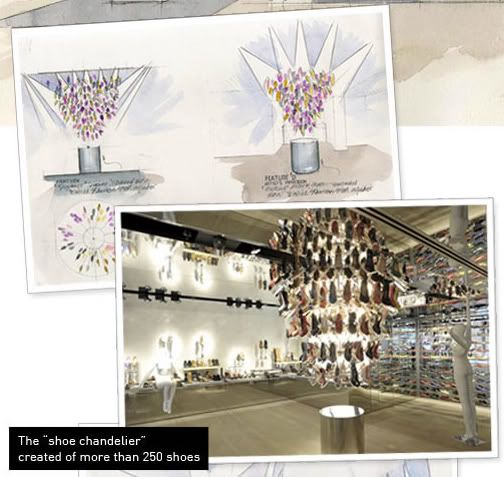 I've spent the morning reading about the newly open premium footwear KG store in Covent Garden in London. I haven't been myself but it is without doubt a store I would visit if I am ever in London, The range of footwear for Women is stretched and includes platform stiletto's, straightforward courts, lattice-front stiletto's, ballet pumps (which is displayed in a mirrored, open fronted cube) in a vast array of colours, patterns and finishes. Sounds very sexy? yes.
Not only this, but the store will offer 1000 different styles including men and women's own brand and a selection of other labels.
The store appeal is not to be missed! A lot of innovative designs, on the walls everything is mirrored and on the ground floor is the shoe chandelier – a large overhead lighting fixture ornamented with an array if current footwear trends- A polished performance. p.s.. how is kurt geiger suppose to be pronounced?.. 'kurt gay gar??' 'kurt jey gar??' O.o